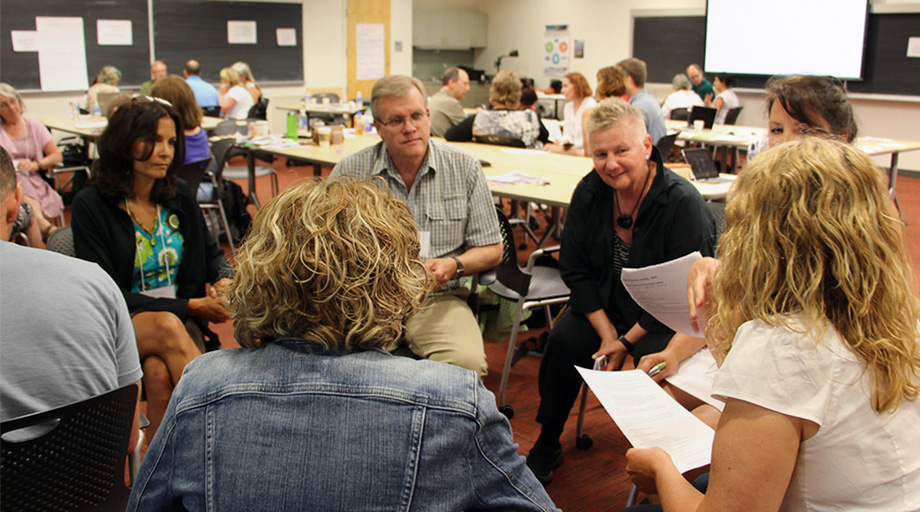 Image credit: Networks of Inquiry and Indigenous Education (NOIIE) 
UBC Library's Irving K. Barber Learning Centre is proud to reflect on 10 years as a funding partner for the Networks of Inquiry and Indigenous Education (NOIIE) and the critical role this organization fulfills at participating schools and school districts across British Columbia.
The Networks of Inquiry and Innovation was established in 2000 with initial funding provided by the BC Ministry of Education. Ten years later, the Aboriginal Enhancement Schools Network (AESN) was launched as a branch of the Networks to improve education outcomes for Indigenous young people in BC. In 2018, the organization changed its name to the Networks of Inquiry and Indigenous Education to better reflect its scope of work. IKBLC's involvement with the Networks began in 2013 with conversations about student transitions and a desire to support the work at AESN.
Supporting students through life's transitions
"We talked initially about the importance of supporting transitions for Indigenous young people in rural communities from Grade 12 to post-secondary, and we said that we would love to take that on. The Networks at that point were starting to focus in a more concentrated way on Indigenous understandings, and we thought it was a perfect fit [for IKBLC]," says Judy Halbert, NOIIE Co-Director. "But as the work went on, we realized that transitions from Grade 12 to post-secondary were actually a small part of the transition story for Indigenous young people."
The Networks' focus was expanded to include all transitions in a student's life, whether moving between grades, from foster care back home, or preschool to kindergarten. "All of those points of moving communities or moving schools—anything that constitutes a change in young people's schooling and lives—is where we can lose Indigenous young people," says Halbert.
Reflecting on the 10 years of support provided by IKBLC: "The partnership [has gone] well beyond the money. The money was very welcome because it's allowed us to do some things we couldn't otherwise do, particularly in supporting rural educators who are doing this hard work of retraining colonized practices into something better," says Linda Kaser, NOIIE Co-Director.
One major outcome for the Networks has been the NOIIE Transitions Inquiry Study, now in its third cohort, co-ordinated by Jana Fox, Principal at Silverthorne Elementary in Bulkley Valley, and Lori Burger, who holds a District Truth and Reconciliation role with the SD52 Indigenous Education Department and is Vice Principal at Charles Hays Secondary in Prince Rupert.
The study "explores how collaborative inquiry can help educators to improve transitions for Indigenous youth—from grade to grade, school to school, and beyond school" through insights provided by inquiry teams of dedicated educators from across BC.
"This work has helped to make space for educators to center youth and Indigenous voices and perspectives with a focus on honoring learner transitions. The teams are working on ways to ensure we are removing barriers and obstacles, and that students have agency as leaders of their own learning," says Burger. "The projects are deeply connected to student voice, so each transitions inquiry looks different as they reflect specific contexts of learners with an emphasis on connection, belonging and student empowerment."
"Students have shared that they feel a sense of belonging in their schools and know that there are people who believe that they can be successful in school and beyond. Educators have let us know that involvement in the transitions inquiry has led to some of the best years they have experienced in education. They have described this work as exciting, uplifting and inspiring!" says Fox.
Helping everyone become a learner
Before joining the Networks, nearly 20 years ago, Nicole Davey, Director of Instruction, Learning & Innovation for the Nanaimo Ladysmith Public School District, recalls how she felt discouraged as a secondary school English teacher, early in her career.
"I wanted to do better for my students and always had the belief that we need to create spaces of equity. I was from a small rural district up in northern British Columbia, so I didn't have a lot of opportunity for professional learning. I found that the secondary system was still very much content-based, with very traditional practices when it came to assessment. The Networks gave me permission to be a learner, and that was really the beginning of my journey into formative assessment. Connecting to other educators—and learning from them—has been incredible," says Davey.
"The only way that we're going to be able to keep moving forward as an education system in BC is through all of the things that [being part of] the Networks teaches us," says Davey. "The Networks provide connection and fulfillment, a sense of efficacy and purpose—all things that help us flourish."
Better together
Last month, educators from across the province gathered in Richmond for the NOIIE Symposium, a fully booked event that features programming on the theme, Better Together, and marked a much anticipated in-person reunion, after two years of virtual Symposiums.
"We're better when we're face-to-face, but also we're better when we work together in partnership with community," says Halbert, speaking on the event's theme. "Recognition by the Irving K. Barber Learning Center that the work of teachers, principals and cultural support workers is known and valued outside of the K-to-12 system is an important message."
Julie Mitchell, Associate University Librarian and IKBLC Director says: "The NOIIE program encompasses so many core priorities for the Irving K. Barber Learning Centre—it has province-wide impact, emphasizes support for Indigenous students, enhances opportunities for many rural and remote communities, and of course, supports lifelong learning of both the students and educators involved. We are honored to play a part in supporting the work of this incredible program."
Learn more about the Networks of Inquiry and Indigenous Education, visit the program website