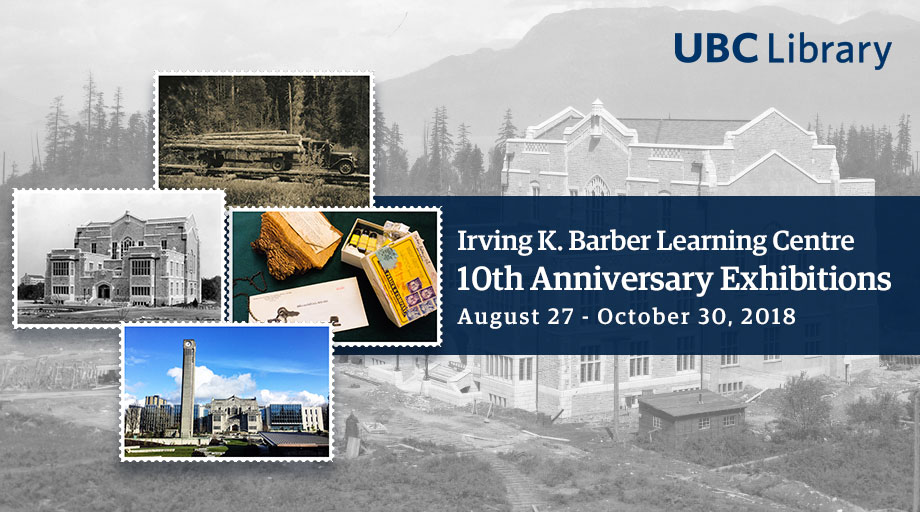 Ten years ago, the Irving K. Barber Learning Centre (IKBLC) celebrated its grand opening on UBC's Vancouver campus. As a technology-forward place of learning, the four-story building is a focal point of education for students and researchers and has become an innovative fixture on campus.
Dr. Irving K. Barber, who as the principal donor gave $20 million towards the building's development and construction in 2012, was a leader within B.C.'s forestry industry for much of his career. IKBLC's unique design—blending old stone and modern glass—incorporates one of the three original, permanent Point Grey campus buildings into its core, the 1925 Library building, which was refurbished as part of the construction process.
While key Library units have found a permanent home within IKBLC—including Rare Books and Special Collections, University Archives, and the Chapman Learning Commons—many more programs have come to enrich the space in the intervening years.
In celebration of this 10-year milestone, UBC Library is installing two temporary exhibitions on Levels 1 and 2 of IKBLC.
A Place of Learning: The Evolution of the Library and the Irving K. Barber Learning Centre, explores the construction and physical evolution of the 1925 Library building and its transition to the Irving K. Barber Learning Centre. Curated by Archivist Erwin Wodarczak, all items featured in the exhibition come from the collections of the University Archives, which serves to identify, preserve and showcase the University's permanently valuable records. 
Presented by Rare Books and Special Collections, 150 Years of Forestry in British Columbia takes a broad view of the forestry industry in British Columbia from 1861 to 2016. Items on display are drawn from key collections with strong ties to forestry. Student curator Ashlynn Prasad, under the supervision of RBSC Archivist Krisztina Laszlo, selected materials that illustrate the evolution of a cornerstone industry in B.C.
Thanks to the many people who contributed their expertise, time and help with the curation process for each of the exhibitions, including Gordon Yusko, Sarah Dupont, Kristen Wong, Jacky Lai, Chelsea Shriver, Anne Lama, Jamie Wood, Hannah McKendry, Vera Sudakova, and Rebecca Silver.
The Irving K. Barber Learning Centre 10th Anniversary exhibitions are on display starting August 27. A Place of Learning will continue until October 30, while 150 Years of Forestry in British Columbia will extend until November 16, 2018. The RBSC reading room is open Monday through Friday from 10 a.m. to 4 p.m. and Saturdays from 12-5 p.m. For IKBLC's general hours, check here. The exhibition is free and open to the public.